Some registrars cost significantly more than others. Why? We're not sure. Does it make a difference in service? Not really, in our experience. Historically we've used Register.com, but in this experiment cost was more of an issue. We were obviously concerned by what we might lose in working with a less expensive registrar; so far–pretty much nothing.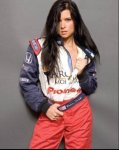 Danica's all about a professional web presence.
Our experiences with the "low-cost" registrars were largely uneventful. We will probably have more insight once we get into a billing dispute or have some kind of outage. We used NameCheap for the majority of our registrations as we had reservations about GoDaddy, if for no other reason that their advertising does not seem to be targeted at businesses. (The whole "Danica Patrick's Beaver" campaign just didn't project the right image.)
From what we can tell, as long as you're not swayed by efforts to up-sell and don't mind a considerate, but targeted, customer service call or two, the differences are minimal … as far as we know. Our reviews are below and are clearly focused on "low-cost" registrars, as the more expensive options make it harder for a micro-business to turn a profit.
Con: Several (often underhanded) efforts to up-sell during registration
Pro/Con: "Customer service"/sales call to our home after registration. While this phone call might actually be comforting to someone new to the process, it still represents a bit of a downside to using GoDaddy for our purposes. We really don't have the time to screen sales calls from GoDaddy for every registered name (note: it remains to be seen if we'll get calls for every name registered or just for the first).
Possible Con: "Front-runner" in the field may have less incentive to provide good customer service
Pro: More streamlined registration process
Con: "Timeouts" cut off purchases too many times
Pro: First year of "domain privacy" for free (i.e. namecheap won't reveal your personal information if queried as to who owns a requested domain name)
Con: DNS interface could be better. If you actually have some understanding of how DNS works, their attempts to make it more user-friendly are counter-productive. If you don't have any understanding of how DNS works, you're going to be confused anyway, so we're not sure they've achieved much.
Pro: User interface is good. Support has been fine. Really no complaints but the price.
Con: By far the priciest of these options. Also they add a default $9 fee for domain privacy.