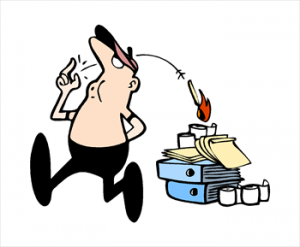 Not so fast…
One of the greatest things about a home-based business is that you can pretty much work from anywere–as long as you have internet and phone access (which these days is…well…anywhere!). It's the new "American Dream," and all you have to do is figure out how to make it happen.
But, as we all know, starting a business takes time, and time, and time, and money. Lots of things can fail before something succeeds. So the best piece of advice that's the hardest to heed is often, "Keep your day job." You're so excited about your venture, you're spending all your free time moving it forward, you're finally starting to see some traction, and you really want to ditch this 9-5 gig and dedicate more resources to the start-up. Me too. Here's what I have to keep reminding myself:
Our top 5 reasons to keep your day job…even when you want nothing more but to sign that resignation letter:
If you panic, your venture will suffer. Any investment takes time–and usually a series of failures–before it provides a decent return. You may even need to go back to the drawing board several times before you get it right. If you believe in your idea and have the unencumbered time to take it through its iterations, success is much more likely than if you're forced to quit and job-hunt after one failure because you don't have the back-up income to weather the storms. Also the same panic may drive you to monetize your work prematurely before you've worked out all the kinks, which may turn a growing successful idea into a failure.
Emergencies happen. Even if you've planned like a champ, the unimaginable can happen. Your car breaks down, there are new and sudden medical bills, your spouse is laid off, anything. Having that steady income from your day job can save the day.
You need health insurance. And dental insurance. And tuition reimbursement. And child care reimbursement. And transportation reimbursement. Whatever your company pays for often costs a fortune to get on your own. And the disability and sick leave shouldn't be sneezed at as just-in-case precautions.
Your company contributes to and/or matches your contribution to a retirement account. Again, why walk away from free money unless the job is seriously inhibiting your venture.
You have a built-in network. Of course you won't put posters for your off-hours business in the company cafeteria, but take a look at your business network for potential future collaborators, customers, and clients. Lots of business colleagues are part colleague/part friend; start cultivating them now–just keep it on the "down low."
We all get carried away with the desire to throw caution to the wind–after all, how could we possibly fail?!?–but keep your head on straight. When your venture DOES succeed, it will be even sweeter.