The Internet community has an interesting principle. If something is trying to make money, that something is terrible. The only exception to that are giant corporations. It's fine if Google wants to make a buck, but if someone puts Adsense on their site to pay for their hosting bills, it immediately compromises the integrity of their work.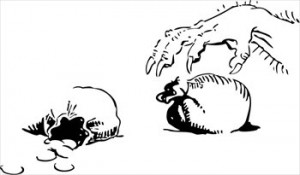 Is It Wrong To Want To Get Paid?
Now obviously there are justifiable reasons for the stigma associated with site monetization. If I go to two sites and one has no advertising, it's more likely that the advertising-less site is done out of love and isn't a spam site. It's also more likely however that the proprietor will lose interest, decide it's too costly, or disappear for any number of reasons.
Although some hesitancy is justified, there seems to be a stigma above and beyond the initial skepticism against sites trying to "get paid." If a site has been running for quite a while and adds advertising to its pages, many times the users will be angry with this decision. Somehow their content is less worth reading now that the creator is making money. Either that or they are horrified by the idea of having advertising cross their vision.
The interesting side-effect of this anti-monetization bias is that "serious" content developers are going to suffer a penalty against an amateur. If there is a penalty for trying to get paid for your work, those that would like to make a serious play at making a quality site are going to have to overcome an additional hurdle that someone "toying" with their site doesn't. Thus in many cases the inferior site may "win out" just because it doesn't have advertising.
While we feel this may be a dangerous principle, we are fairly loathe to monetize our sites before they are popular anyway. When you have low traffic levels, the income will be trivial anyway, so you're not giving up much to keep the "good press." Why try to scrape out a few bucks if you're just going to have to use it on advertising because you've added another barrier to entry? Identifying when to monetize is a decision for another day, but for now we see no rush to try to monetize our endeavors.
The only exception is affiliate programs for products we're going to recommend. We figure if we're going to link to them anyway, we might as well get some benefit out of it. As Problogger.net points out, these can be a long term investment that pays off in the long run. We don't want to go back and add them later in the future. If people hate us for having affiliate links, so be it.