One of the most disappointing areas of development in the Walt Disney World For Grownups project is search engine traffic. Our knowledge and research left us fairly sure this niche is not being adequately serviced, however we are not seeing much incoming traffic from search engines. We're enacting steps to counteract some of our early mistakes as we recognize them, but for future reference we are analyzing how we could have avoided these problems in the first place.
One of the most fundamental questions we need to ask is: What are people searching for?
You can get a general overview of Google Trends in this article from the Google blog. As you might expect from the name Google Trends is useful for identifying the relative "strength" of various search terms. So by using the service, you can determine which of various search terms is most popular.
Additionally you can determine the changes in a search term's prevalence over time. You can watch whether the term is becoming more or less commonly sought. You can also break down all these results by region and download the data to analyze on your own. While you can't get a "raw number" of searches, it's questionable what good that number would be. If I knew that "pickle" was searched for 10,000 times a day, I wouldn't know whether that was a lot or a little unless I had something to compare it to.
Examples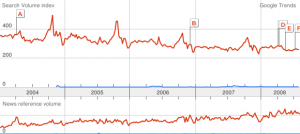 Graph of Grownups vs. Adults
So an example of how we could have helped ourselves is in the naming of our site. We chose the name "Walt Disney World For Grownups" over "Walt Disney World For Adults" because the term "adult" has a connotation relating to "adult entertainment", which doesn't really jive with our more "PG-rated" site. However if you look at this graph, you can see that "adults" is searched for about 300 times more often than "grownups." While we expected a disparity, that one is so extreme we might have re-evaluated our name choice had we known about it.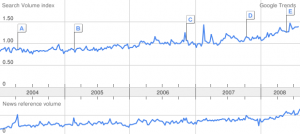 An Awesome Trend (ho ho)
While relative popularity is important, you don't always want the more popular term. If you are trying to carve out a niche, the less popular term my be less adequately serviced. Take for example: "cool" versus "awesome". While this shows that "cool" is about 14 times as popular as "awesome", if you look at this chart you can see that awesome has actually been trending up quite strongly for quite some time. This could mean that it is a candidate to be "off the radar," but gaining strength. I would rather be a big player in the smaller, but growing pond.
The ways that Google Trends could be used are obvious and numerous. As we find more complex and interesting uses we will share them with you.