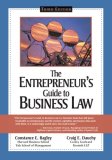 The Entrepreneur\'s Guide to Business Law
Rarely can I give an unabashedly positive review of a book. In this case I can unequivocally say that I recommend The Entrepreneur's Guide to Business Law
to anyone who wants to be an Entrepreneur.
What It Isn't
Lest I too badly disturb anyone used to my usual cynicism, let me first warn potential buyers what this book is not. This book is not a guide to trying to conduct certain legal matters without a lawyer. There are tons of books out there on "Incorporating Your Own Business," and this is not one of them. The value of this book is in limiting how much time and money you spend with your lawyer and having an understanding of your options and what your lawyer is advocating.
What It Is
Ultimately The Entrepreneur's Guide to Business Law
is simply a high-level guide to the subset of the law that most affects entrepreneurs. The language is very easy to follow and concepts are presented in a logical order. In an excellent choice, the subject matter is presented in the order that it will usually be relevant to people. So for example, it first focuses on "quitting your day job" with rights to all of your work and proceeds all the way to IPO law.
One complaint that many may lodge is that so much is covered that none of it will apply to everyone. I think this is an illogical complaint for several reasons. First, the book is quite long, so even if you don't use all of the information you still probably got plenty of value out of the book. Second, and more importantly, is that you can't really know which of these sections does or does not apply to you without reading them. Information, even if not applicable now, may indeed be as your business progresses.
While you may never have an IPO, after reading about what it entails you might have a better idea of when it might be feasible. Even if it wasn't your intent, you may find out that it's more realistic than you thought. Or the book may recommend small changes you can make to make an IPO more feasible even if it's not really in your plans. Even if you think that pollution may never be a concern for your business, the book makes some valid points about why you should be concerned about it, even if you aren't in manufacturing.
Strong Points
The strongest points of the book are:
Easy to understand language.
A 'case study' at the end of each chapter that follows the progress of a fictitious startup to illustrate certain points.
An appropriate amount of detail on most subjects. Enough to be useful, but not too much to make it not worth reading.

In summary I would recommend this book to anyone who plans on starting any kind of entrepreneurial venture. A few dollars spent on it could save you thousands in legal fees. Even if you never hire a lawyer, your improved knowledge of the law can make you more astute and informed when dealing with other parties.