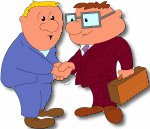 Old-fashion values never stopped working
Two contradictory truths I've learned so far: 1. The way to succeed in an internet business evolves every day; as soon as you identify something that works, the rules all change, and 2. The way to succeed in internet business is the same way people have been succeeding in business for decades: cultivate the ability to anticipate, build, and maintain positive and synergistic relationships.
It's the second that's been catching my attention recently. We can always read up on the latest trends, take the best motivational speaker's advice, and build the most logical and conservative business plan. But the real nitty-gritty of entrepreneurship is based on meeting the right people at the right time, setting oneself up for the useful introduction, and maintaining close and creative symbiotic associations. The art of gauging judgment calls in relationship-building is the practical foundation of buzz words like "networking" and "link-building." For all you introverts out there, it's time to break out of your shells!
If it ain't broke, don't fix it. Focus on relationship management in PR, link-building, marketing, and advertising and you'll see positive change in your business. It will always work because there are too many people out there either not reaching out at all, or dropping the "polite, helpful, and useful ball;" your extra effort will be well recognized. Here are some very simple, 15-minute suggestions to try this week:
Send positive comments to 3 of your competitors. This way they'll know you exist, that you appreciate their work, and that you're willing to play the game above board. Great collaborations can come out of this.
Send thank you emails to 4 of your friends or family members who have been particularly helpful in launching or supporting your business/website; tell them how far their support has already taken you and let them know that you'd like to return the favor with any exciting projects they're working on as well. People like to pass on compliments when they feel invested in something—this might spur them to some word of mouth advertising for you.
Help out a site or business that's not in your main market space, but with which you can see a creative connection. Send a supportive email, post in some flailing forums, or submit an article. This will introduce your site to an entirely new audience and create a positive new relationship that may just develop into a new collaborative venture.