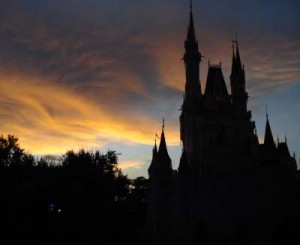 We've got tons of these!
Adding pictures is, hands down, one of the easiest activities with one of the largest returns on investment possible for website building. Pictures (and other graphics) make any site look more professional.
After building up the content of the link directory for Walt Disney World For Grownups, it was clear that the site needed something to make it look more interesting. And this is another place where having content knowledge and being a member of our own target market came in handy—I have, literally, hundreds of pictures from my past Walt Disney World trips that are frame-worthy or desktop wallpaper quality. Because I fancy myself an amateur photographer, these are artistic photos and not pictures where people are the centerpiece, which makes them perfect additions to the site. The subjects (rides, major landmarks, attractions, etc.) will be easily recognizable, and I won't have to worry about the consent forms or privacy issues that go along with human photo subjects.
Upon Brad's suggestion, I downloaded Gimp 2 image manipulating software (free). After choosing and editing a few photos that complimented our main site areas, I uploaded the edited photos to our ftp folder and then added links to the relevant pages. Voila! The photos make a huge difference, we think, in making the site more palatable. They also actually add content, as many members of our target market are researching a vacation and enjoy access to pictures of their potential destination.
Questions remaining:
We don't know if the pictures we chose were the right ones for our purposes.
We believe that many of our "expert" visitors will be impressed by obscure, artistic photography, which is more in line with the "grown up" feel of the site (most WDW sites stick with well-known images and even stock Disney photographs). However, we expect that our opposing "new to WDW" visitors will respond more positively to images they can recognize (e.g. major WDW icons such as Cinderella Castle and Mickey Mouse).
Though we have links to photo galleries from other sites, do we need to also provide a photo gallery of our own photographs?
As stated, it's clear that photo galleries are a draw for many visitors who are new to WDW. There's no planning substitute for seeing your destination—whether it's a hotel room, a restaurant, or an attraction. We even have pictures of the food at WDW! We're not sure if it's worth that much work when we can link to similar photos on other sites.