We have a lot of our links (i.e. content) uploaded. We have our pictures. But we need traffic, and we need that traffic to stick around on the site long enough to register for and start posting on our forums.
Well, ever since my college Psychology days, I've been addicted to personal quizzes and personality tests. All I have to do is answer a few questions and—poof!—a definitive explanation of who I am! It's brilliant! Me—in a nutshell—in under 5 minutes. And it's clear that everyone else is wild about these things, too; all you have to do is take a look at the various personality test plug-ins and quizzilla.com-type add-ons all over the social networking websites.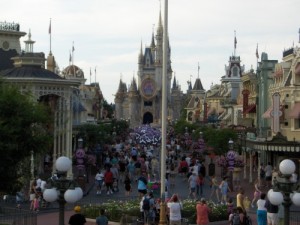 Everyone loves interaction.
So, in tune with this thinking, we figure interactive website components are key to driving traffic and getting referrals. We're currently playing with lots of different ideas for the site, including Disney-fied personality tests for adults (i.e. not teenagers or tweens), but our quick-launch idea was a quiz. The question was—do we create it for our new-to-WDW visitors or do we create it for our experts? Because writing a quiz for experts would simply be more fun (and because our outreach efforts are more targeted at experts at the moment), I got started on putting together a 10-question quiz at the expert level. (Again, knowing content was key here; there's no way I could have put together a quiz so quickly if I wasn't an expert at this stuff myself).
While I wrote the quiz, Brad scanned the web for good and useable quiz code that he could build into the style sheet. He couldn't find any that he loved and figured that it might be useful for the site (and for potential future endeavors) for him to develop his own quiz code, which he did.
To date, we've posted the quiz in our experts area as well as on our home page. So far, we've not had more than 4 people take the quiz in any given day, but with a daily visitor tally of about 15, that's not a bad percentage. We're optimistic.
Questions remaining:
Are quizzes a good idea? Is our quiz driving traffic to the site?
If so, do we need to do several quizzes at all different knowledge levels?should we
stick with a revolving set of questions that include easy/intermediate/expert levels?
What about a personality test? Do we need one? Is it a good idea?
Should we institute a "tests and quizzes" section of the
site where people can take the tests and get bb code to attach to their myspace/facebook/forum signatures?
To drive traffic to the forums, do we automatically post scores to the forums after
visitors take the quiz? Do we place a category in the forums where people can post and discuss their quiz scores and debate the questions?