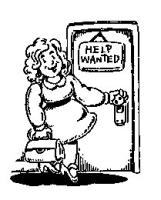 Good helpers are hard to find
One mistake I have managed to make over and over again in planning my online projects is the assumption that all my friends are going to rush to support it. Typically when I'm imagining the testing process, I write down all my friend's names and assume they will all be drooling with anticipation at the opportunity to help me out. With all these friends I'll have a baseline of twenty users a day working my system over–we'll get the kinks worked out in no time.
This of course is not the case.
You will be shocked and amazed at how little your friends will do to help you out. This is not because they are horrible people, it is simply because even though you really want your blog to succeed, that doesn't mean they're going to be enthralled with it. While it's what you're "into" at the moment, their priorities most likely lie elsewhere (we hope!).
You kind of assume everyone would be interested to read your blog, but in the end probably most of them won't. Those who do will probably do a cursory glance, say "looks cool," and move on. Even though it doesn't seem like much to ask for them to invest a few minutes in supporting your endeavor, it's just not going to be at the front of their mind.
If you are lucky enough to have the kind of friends that will check in on your blog periodically, or post on your forum, or even just give you feedback on your theme and usability, be sure to show your thanks and help them out in their endeavors.