One of the suggestions that we found most widely useful in Tim Ferriss' "The Four Hour Workweek" was about how to use PO boxes. We all would prefer that our business address look like a "real place" instead of a PO box, but a PO box is all we can afford on our budget. Enter Tim Ferriss' advised solution. If you have PO Box 203, look up your post office's address and then send the mail to that address with #203 or "suite 203" appended so it looks like that's your address.
Issues
We thought this was exactly the kind of handy tip that would make "The Four Hour Workweek" worth the money. We feared however that it wouldn't be useful for us unless we were confident that the mail would actually get there. So to test it, we tried a variety of variations on the address to answer the following questions:
Does it matter what addressee you put on the name line?
Will it arrive if you use the post office's address instead of your PO box address?
Can you use strange variations of the box # to make your address look more legit?
Addressee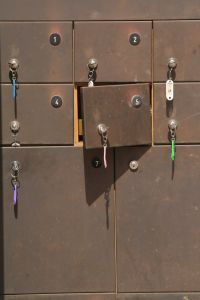 Things work a little differently in Tim Ferriss' world.
We would like to use our PO box for all of our businesses. We don't really plan on getting that much mail, so the investment of a PO box for each business is going to eat into the small profits of each of these ventures. At the same time, we don't know what all of those ventures will be right now, but we do know we need a PO box. So we basically just registered the PO box in the name "Protoscopic," wanting to see if we could address mail to other businesses at the same address and have it arrive intact.
The post office seemed pretty explicit about needing all the names of recipients, so we were a little nervous; at the same time we were fairly confident that the postmen would rather just deliver it than return it over a name thing. So to test this, many of our variations included Walt Disney World For Grownups as the addressee instead of Protoscopic.
Post Office Address
Tim Ferriss' method is predicated on the idea that your mail will arrive if you use the post office's address instead of just the zip for your PO Box. This test was pivotal and much less of a foregone conclusion, so we used this in the majority of our variations. If this part didn't work, the rest was irrelevant.
Box Number Variations
The first hiccup in this plan came when we were assigned our PO box number. It was six digits long, which doesn't look like a realistic suite address at all. Our only solution to this was to try weird variations like "Suite 19-2548" or "Floor 19, Suite 2548". We were far from confident this technique would work. The idea of putting "#192548" was not a complete deal-breaker though. It still looked slightly more "suite-like" than a PO box.
Results
Our results were disappointing to say the least:
Mail addressed to the post office's address with the PO box included arrived, but with the address struck through and "Bad Address" written on them.
Mail addressed to the post office's address with any type of "Suite" or "#" instead of the PO box did not arrive at all.
At least the matter of the name seemed irrelevant. All our mail address to Walt Disney World For Grownups arrived as long as it used the correct PO box info.
Given this, it seems that it is quite unrealistic for us to use this method. While our sample space was fairly small (two different source locations and 5 letters each time), anything less than a 100% success rate is unacceptable. We were originally concerned that even if we met with success, we would have to keep testing to make sure everything was getting to us; but since the technique doesn't seem to work for us at all, we don't have to keep trying.
It may be that in smaller post offices or in other locales this technique will work, but for us it is not acceptable. Fortunately we don't have a huge need for a realistic business address for any ventures in the near future. If however you were drop-shipping or engaged in some other type of very customer-centric business, this could be a considerable hold-up. A "Virtual Office" may provide a solution for this kind of problem, but is considerably more expensive. In the future we will look for cost effective alternatives, but for now we are just going with the PO Box.