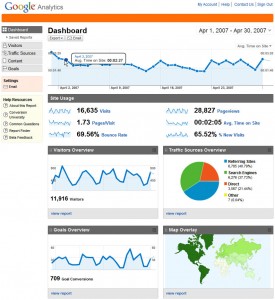 Make me stop refreshing the reports!
I love Google Analytics
In fact I may love it too much. I often spend far too much of my day sitting in front of the screen checking to see if and how our visitation numbers have changed. It's really quite a waste of time. That being said I feel like anyone running a website should have Google Analytics or some kind of tracking software installed.
What is Google Analytics?
Google Analytics is a free service that allows a webmaster to see who is viewing their website, where they came from and what they are viewing. It also allows you to track things like how people navigate through your site and allows you to define goals and see what factors are contributing to people who satisfy those goals.
Why You Should Install It Now
I recommend putting Google Analytics on your site as soon as possible. I actually intended to write this blog right when I started the site, but…I didn't. You're probably thinking that since you will be pretty much the only one going there for a while, there's no rush. There's a possibility however that people will just "drop by." All of our sites have been spidered without us submitting them to Google and before we had an inbound link. When people "wander in" by certain search terms you get a feel for what you should be focusing your content on.
Installing Google Analytics also helps you quickly come to the realization that you need some kind of Content Management System (CMS), even if it's a DIY one. In the course of developing your site you will have all kinds of site-wide changes like adding analytics that you will need to do, and some kind of content management is a must to make that simple. Even if it's just using Smarty templates, you need to make these kind of changes easy.
Quick Tips
A couple of quick tips that would have saved me some time:
Use a Cookie to Exclude Yourself
You want to exclude yourself and anyone who works on your site from inflating your stats. You can do this with a filter as described here. Most people tend to exclude themselves by IP address. I may be unique, but I travel a lot and use my laptop from many different locations. I also have semi-frequent changes in IP due to my ISP, so IP seems like a fairly inexact way to exclude myself. If I set a cookie on my browser, then I know that I will be excluded regardless of where I log in from.
Important: You need to do this on every browser on your machine as it is set via cookie. If you rune IE and Firefox both for example, both need to have the cookie set.
The "Referrer" To Your Site Sticks
I found the documentation on this subject to be unclear but finally found confirmation here. If someone comes to you from a certain link or search and then returns to your site directly in the future, it will still show as being "referred" from the original site. This makes sense as it helps you calculate how "useful" that source was.
Read the Google Analytics Blog
The Google Analytics Blog oftentimes has great insight and information. I recommend reading the archived content as soon as possible and then keeping up with new posts.