Most of the major search engines have some kind of "Webmaster tools." The three we use so far are: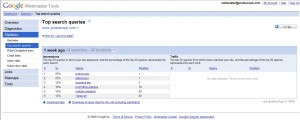 Number 42 for "strap on"…oh dear.
In a not-surprising turn of events, Google's is by far the most useful. Although its utility diminishes somewhat when it is "punishing" you. Both Microsoft's and Yahoo!'s have fewer features and Yahoo!'s even has a 24 hour "pending" period when you join. I have no idea why they can't just validate you immediately like everyone else; that's part of the purpose of me putting an otherwise useless file on my server.
Anyway, if you're not using these I recommend them. They can help you analyze what's going on with your website, which can be a difficult thing to determine at times. For example, with Google's tools, you can:
Check when your site was spidered last
See what errors the bot encountered on your site
Find "problem content' like duplicate titles"
See what searches you rank best for (VERY useful)
Determine the most frequent keywords in your site and links to your site
…and of course more. These features can really help identify problems on your site and even, in some cases, strengths. I would definitely put these tools on my "must have" list. Also check out the relevant blogs for the tools: