Adding "Get Started Here" Section With Buttons
We have substantial content and pictures in place. We have decided to add a WDW Experts section to the site and have created an Expert Quiz to make the site more interactive. Now we want to get those things that we think will drive traffic to the site (Experts section and planning section), generate referrals (Quiz), and bring in repeat visitors (discussion forums) front and center.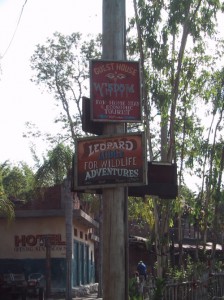 Clearly we want links on the home page for these site sections, but text links just aren't strong enough (besides they're buried in the home page text and nobody reads home page text, do they?). Brad was playing around with button-makers online, so we decided that flashy buttons on our home page are just the thing we need to generate interest and color on the page.
We started with a bright yellow button ("Start Here!") that directed visitors who were new to WDW and hoping for planning advice to our article about "planning basics." After a couple of days, we've decided to create a "Ways to get started with this site" section on the home page, where we've placed buttons (of a more site-friendly color) directed at four sections of the site (stated above: trip planning basics article, forums, expert section, and quiz).
Adding a Tip of the Day
Upon the suggestion of a family member, we decided to also add a "Tip of the Day" to the home page. This does three things: 1. shows visitors that the site is being updated regularly, 2. allows us to show our credibility by showcasing knowledge of little-known WDW tips, and 3. allows us to build even more links to our forums and/or site content on our home page, bringing visitors deeper into the site when they click on links in the Tip of the Day.
So far, the Tip of the Day has been a useful addition to the site, though we're not yet sure if it's improving our traffic or retention levels.
Questions Remaining:
Does our list of "get started" buttons compete too much with our lefthand menu? Is the home page too busy for new visitors?
Are the sections of the site to which we've pointed buttons really our most reliable for generating traffic?
Do we have two target markets: experts and new-to-WDW planners? Should we narrow it and reconfigure the site for one or the other?