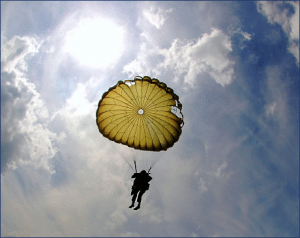 You\'ve prepared…now take the leap!
I was reading a blog by Terry Dean the other day, entitled 5 Keys To A Beginners Fast Start. Usually these "how to do it fast and real" blogs become commonplace and the only real excitement is felt when one stumbles upon some theory that's broad enough to be sustainable over just about any venture.
This one's pretty good, and it includes a bit of a wake-up call for people like me—planners. I used to value above all else the ability to make detailed plans. But planning—without resulting action—is procrastination. It's become clear to me in the past several years that although strategy is critical, action is paramount.
From one planner to another: Stop Thinking and Start Doing. Why strap on the parachute if you're not going to jump?