Link Building. One of the best investments you can make, but also time consuming and often frustrating. Other people have a nasty habit of not being as concerned with your desire to be linked to as you are. They also have a tendency to not check their mail as often as you'd like and to be rather slow in answering when they do. That being said, the payoff is quite high when you get a good "permanent" link somewhere else.
There is also the lure of the "fast" link. These are links, for example comments in blogs, that don't require much or any interaction with the owner. There's nothing wrong with these kinds of links, but they have a very different kind of payoff. This leads to the question: Which is a better investment of time?
Fast Links vs. Permanent Links
"Permanent" links are typically links on other sites that are not associated with "time sensitive," or temporary, content. These links are typically more valuable because they will provide more links over time. On the other hand they tend to be harder to get and usually aren't as prominent as other links often are (e.g. they could be buried on a "links" page instead of being seen on a front page blog comment).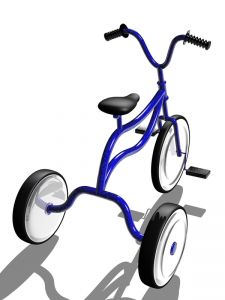 Faster isn't ALWAYS better
In the case of our Walt Disney World For Grownups site, the contrast is stark and easy to see. There are many sites in the space that are usually willing to link to you or do link exchanges, however this can be a slow and labor-intensive process, after which we'd usually get one or two visitors per day from that site.
On the other hand, we can usually post in relevant blogs, particularly the Theme Park Rangers blog, and see an immediate influx of visitors. There is usually roughly a 24-hour period during which these users visit our site, and then site visits "decay" quickly overall.
Focusing on Permanent Links
While it is nice to see a higher volume of users on any given day, it is usually more effective to focus on "permanent" links. "Permanent" links will decay as well, however they will typically level out at some level and stay there. You also have the potential to share in the improvement of the standing of the linking site. Probably the most effective way to get a good permanent link is to partner with someone who is on their way up but hasn't made it yet. Then you will have a quality link when they are raking in the visitors.
Thus while it can be appealing to get the "warm fuzzy" with fast links, it is generally advisable to focus on permanent links in the early going. We typically augment our visitors periodically with a few "fast links" just to help exercise our site more, but creating a higher "base line" usage by developing a permanent link structure continues to be our focus.